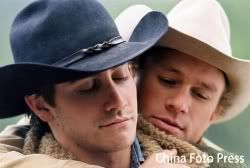 "Tell you what, we coulda had a good life together! Fuckin' real good life! Had us a place of our own. But you didn't want it, Ennis! So what we got now is Brokeback Mountain! Everything's built on that! That's all we got, boy, fuckin' all. So I hope you know that, even if you don't never know the rest! You count the damn few times we have been together in nearly twenty years and you measure the short fucking leash you keep me on - and then you ask me about Mexico and tell me you'll kill me for needing somethin' I don't hardly never get. You have no idea how bad it gets! I'm not you... I can't make it on a coupla high-altitude fucks once or twice a year! You are too much for me Ennis, you sonofawhoreson bitch! I wish I knew how to quit you."

Jack Twist-

from "Brokeback Mountain"



Brother no. 4 was passing by and upon seeing my latest entry....


Brother no 4: Uy..Brokeback Mountain. Napanood mo na ba 'yan?

Moi: Hindi pa nga eh. Sayang hindi palabas sa SM Valenzuela.

Brother no 4: Meron tayong DVD diyan.

Moi: Ow, talaga? Malinaw.

Brother no 4: Oo malinaw. text ko si Loresh.

Moi: (nasally) Okaay!

Brother no 4: Puro kabadingan 'yan eh.

Moi: Oka
y lang naman eh...nabasa ko yung short story, touching naman.

Brother no 4: Dalawang cowb
oy kase 'yan...(muttering to himself while walking away from me).


Earlier that day...Brother no 3 was reading the newspaper... (FYI: Brother no 3 walks in an advertising agency and Marlboro is one of the accounts that he handles)


Brother no 3: 'Tang-ina 'tong Marlboro, nagpa-cinema ad sa Brokeback Mountain hindi nila alam na puro kabadingan 'to...(Shakes his head in disgust).


It is such a shame that I have homophobic brothers.